Why should you choose our shoes?

Our shoes collection was designed for prophylactic and corrective purposes. It is recommended for children with diagnosed flat feet and for healthy children, to prevent this condition. Each shoe was designed after researching treatment methods and prevention of flat feet. It was done in cooperation with physicians from the European Union and orthopedic specialists from Poland. Our final product is made according to the EU requirements, was accepted for sale on the EU market and was also recommended by the Polish orthopedic specialists.

There are different stages in the development and shaping of children's feet. It begins when a child starts walking (at of 10-15 months) and it lasts until the age of 15-18 years, when the growth of feet reaches its final stage. Children's feet are very sensitive and delicate and may be deformed by not suitable shoes. It is very important to take good care of children's feet from the very beginning of their lives. This can be achieved by providing your children with shoes which will assure normal development and functioning of their feet.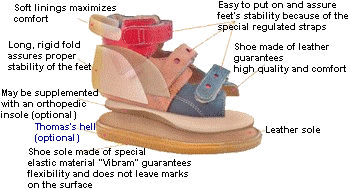 To meet these criteria, our company, presents shoes which are friendly to your children's feet.
Special features of our shoes:
Lightness
Easy to put on
Flexible-shoes bent along the line of joints of the instep
Rigid around the heel
Adjustable, for different width by special regulated straps
Shoe insole has an indent for the proper positioning of the heel and shin bones
Shoe upper and lining are made of natural leather
Possibility of using orthopedic insoles that are individually adapt to child's feet
Shoe sole is made from a very elastic but durable material, resistant to wear, does not leave marks on the floor and plays its prophylactic role the whole time.

Our shoes line received very positive reviews from the Central Laboratory of the Shoe Industry in
Krakow, and was classified into the category "Healthy Feet"



A sole is like a house foundation. If there is a poor quality foundation, there is always risk that the rest of the house may be set contorted. Sole used in shoes guarantee stable foot position, and what is followed, proper posture of the whole leg.

FOOT IS NOT DEFORMED
SHOE PROVIDES ELASTICITY AND DOES NOT SCRATCH A GROUND

All presented shoes may be (even should be) used everyday, by each kid.

IMPORTANT:

Our shoes may be modified on your wish for example through:
adding Thomas heels (standard option for free), specially adapted size (extra charge), specially profile sole made according to doctor's guideline, color selection, clasp selection, etc.